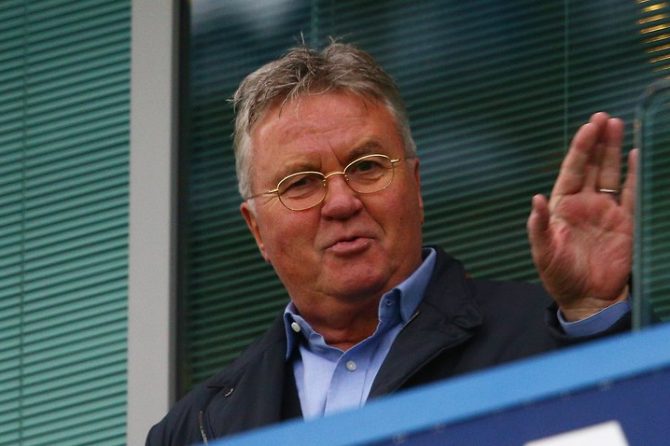 Guus Hiddink is plotting a new lease of life for Chelsea – and he is experiencing one of his own thanks to a cutting-edge therapy that helped rescue his coaching career.
While Harry Redknapp claimed his failing knees forced him to step down as Queens Park Rangers coach 11 months ago, Hiddink, 69, is able to jog painlessly around the Blues' Cobham training ground, only two years after being told he needed a knee replacement.
It was so bad the Dutch master had to use the lift, rather than the stairs, in his lavish home as arthritis took hold.
He was also forced to quit his beloved five-a-side kick-arounds, played rain or shine each week in Amsterdam.
Hiddink, in desperation, reached out to the far horizons of medical innovation to find a panacea.
It came in the form of stem cells, which regrew the cratered articular cartilage on his right knee to the point where he now proudly skips down the hall of his home, twisting left and right without a twinge.
It has also helped him get back to the training ground.
The man who led Australia to the last 16 at the 2006 FIFA World Cup isn't alone in harnessing nature's building blocks to renovate his body. Hundreds of NFL players have dabbled in a plethora of stem cell therapies, as have Paris Saint-Germain's Angel De Maria, tennis great Rafael Nadal, basketball magician Kobe Bryant and recently retired AFL icon Adam Goodes.
Knees, ankles, feet, elbows, shoulders, Achilles tendons and hips can all be treated by the elixir, whose proponents believe will one day make joint replacements obsolete and prolong sporting careers.
"I wasn't able to walk like I used to and running was just too painful for me," Hiddink said.
He brandished the MRI reports, 10 months apart, which show how new knee cartilage has replaced areas ravaged by wear and tear.
"I was told the only way was for a knee replacement," Hiddink said.
But I didn't want that. I'm free of pain and it has made so many things possible for me again, like getting back to playing five-a-side football.
Hiddink found his answer in the Korea Republic, where he is a national hero after guiding them to the semi-finals of the 2002 FIFA World Cup.
His treatment involved an arthroscopic procedure in which stem cells derived from new-born babies' umbilical cords were implanted into his bone. The paste was then left to work its magic.
In nearby Malaysia, at the Kuala Lumpur Sports Medicine Centre, stem cells extracted from patient's own blood, which negates the risk of rejection and possible tumour formation, are working wonders in a one-stop shop for joint regeneration and rehabilitation pioneered by UK-trained Dr Khay-Yong Saw, consultant orthopaedic surgeon and founder of the facility.
His stem cell treatments have successfully prolonged the career of national hero badminton player Lee Chong Wei after a variety of injuries, one of which was an ankle ligament problem which threatened to rule him out of the London 2012 Olympics. He went on to win silver.
Dr Saw and his colleague Dr Ranjit Singh also fixed a nagging tennis elbow of Malaysian prime minister Najib Razak with stem cells.
But it is the success with weekend warriors, and those others in chronic pain, which is attracting medical tourists from around the world to Kuala Lumpur seeking to turn back time.
Dr Saw has treated more than 600 knees alone in a procedure which involves drilling a series of tiny holes into their bones during arthroscopic surgery and later injecting the stem cells into the knee joint, followed by intense physiotherapy.
Follow-up tests demonstrate the formation of pristine hyaline cartilage, in a protocol about to undergo a phase 2B FDA clinical trials in the US.
The procedure with stem cells enhances meniscus repair, the knee's often-torn shock absorber, but unfortunately is unable to regrow any meniscus which has already been excised.
Patients include his former boss in Liverpool, fellow orthopaedic surgeon Nick Geary, who was facing a knee replacement before spending five weeks in Malaysia four years ago.
A year later he was back to skiing off-piste black runs in the Swiss Alps at the age of 60.
"I couldn't even walk around the block without having to stop because the knee was so bad. Now I have the right knee of a 25 year-old," Dr Geary said.
"Working on your old boss and mentor is one job where you really can't afford to fail. We're both pretty happy," Dr Saw said.
Both believe the therapy could transform orthopaedic medicine.
Clinics in Australia, the US and Europe offer stem cell injections, derived from fat deposits or bone marrow and then spun in centrifuge and re-injected into the troublesome areas. But they can cost anything up to $7000 for a single procedure.
And while there is often a reduction of pain, and sportsmen can return to action as Goodes did in prolonging his career with the Sydney Swans, the actual re-growth of hyaline cartilage or regeneration of meniscus is unproven.
Hiddink, meanwhile, has ditched the stick he occasionally used and is now a walking symbol of the stem cell revolution.
Chelsea can only hope for a similar upturn in fortunes.
Leave a reply